Head to Somerset, PA for Outdoor Activities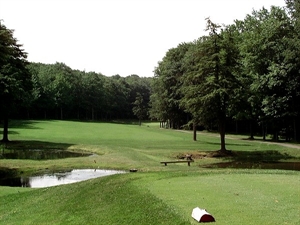 Enjoy the Outdoors PA Style
Those who love the great outdoors will find Somerset, PA to be quite enjoyable. Get in the water, out in the woods, or on your bike when you stay with us at Comfort Inn Somerset. We are surrounded by fantastic outdoor activities on all sides.
---

Hit the Links in Somerset
There are many golf courses surrounding Somerset to choose from, each offering something unique. All will provide exceptional golf. We'll provide the accommodations so you can hit the greens early and still have to experience all our region has to offer.
Wilderness Voyageurs
Ready for some outdoor fun? Look no further than Wilderness Voyageurs! White-water rafting trips on 15 rivers from family fun to Class 5 extreme trips. Learn to kayak, rock climb, mountain bike, or join us for an Inn to Inn bicycling vacation! Hone your fly fishing skills, float and wading trips available. Eat, drink, raft, shop and have fun on Garrett Street in the heart of Ohiopyle. See why more people have rafted with us than any other outfitter.
White Water Adventures
Come visit White Water Adventrues and experience adventure in our beautiful mountains. We offer mild white-water rafting (Class I and II) Middle Yough; intermediate (Class III) Lower Yough and world class thrills on the Cheat River (Class IV) and Upper Yough (Class V).


Ohiopyle Trading Post & River Tours
Ohiopyle Trading Post & River Tours will structure a whitewater rafting trip on the Youghiogheny River that suits you and your family's tastes. Beginner Ohiopyle rafting trips and family floats are on the Middle Yough, and can be guide-escorted or self-guided. Intermediate rafting trips are on the Lower Yough, and can be fully-guided, guide-assisted or self-guided. Advanced trips on Class V Rapids are on the Upper Yough and must be fully-guided.


Laurel Hill State Park
It would be a shame to visit our area and spend the entire time indoors. Families especially will appreciate how close the Comfort Inn Somerset is to the adventures that can be found at Laurel Hill State Park. From the diverse array of wildflowers to the seemingly endless species of birds, a hike on the more than 12 miles of trails offers something for just about everyone. From late May to mid September, you can even hit the beach! Laurel Lake's 1,200 foot sandy beach offers a maximum depth of five feet and also has an ADA accessible restroom and a food concession stand.
For educational and interpretive programs, stop by the visitor center that's located in the beige farmhouse at the entrance to the campground.
Kooser State Park
In the heart of the Laurel Highlands at an altitude of 2,600 feet, Kooser State Park attracts visitors year-round to its 250 acres of forest and the beautiful trout stream that flows the full length of the park. The park's basic appeal lies in its intimate areas which are most suited for family outings and small groups. Picnicking, fishing, swimming, camping, cross country skiing and family cabins are the major park uses. Only 11 miles from the Comfort Inn.
Laurel Ridge State Park
Stretches along the Laurel Mountain from the picturesque Youghiogheny River at Ohiopyle to the Conemaugh Gorge near Johnstown. Hike or backpack over 70 miles on the Laurel Highlands Hiking Trail, part of the Potomac Heritage National Scenic Trail. Seasoned hikers will enjoy the rugged areas of the trail, while the more casual hiker will find level and pleasant sections. Located 20 miles from Somerset.

Laurel Highlands Hiking Trail
The Laurel Highlands Hiking trail is a 70-mile backpacking and hiking trail in Western PA. Part of the Potomac Heritage Trail, it is one of the most celebrated Pennsylvania hiking trails for its varied terrain and wondrous beauty. The Laurel Highlands Hiking Trail runs from Ohiopyle State Park to the Laurel Ridge State Park meeting the 1,000-foot Conemaugh Gorge near Johnstown. It traverses state parks, forests, game lands, preserves and other public and private lands.
Ohiopyle State Park
More than 14 miles of the Youghiogheny River Gorge churns through the heart of Ohiopyle, some of the best white-water rafting in the eastern U.S. The 40-foot bridal veil Cucumber Falls and Cucumber Run Ravine are blanketed with flowers in spring and summer. Hike and bike along 28-miles of the Great Allegheny Passage for awesome views. Visit Ohiopyle State Park.
Great Allegheny Passage
141 miles of the Great Allegheny Passage pass through the Laurel Highlands along the Youghiogheny and Casselman Rivers. Visit trail towns along the way for authentic experiences in traditional small towns. Discover the spectacular scenery and the charm of trailside communities.
Mountain Ridge Trails Resort, LLC
'The Mountain' will soon be the Largest ATV & Motocross park on the East Coast - We have over 2500 acres and access to another 500 acres! Our trails provide a mix of riding that will fit any riders style. We have gentle rolling hills, extreme rock climbing, mud pits and hills that can challenge the best riders.