A Friendly Hotel in Somerset, PA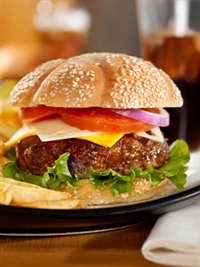 The Amenities of Comfort Inn Somerset
We know that the key to repeat business is exceeding guests' expectations, so we do our best every single day to make sure your stay is perfect. From the spotless rooms to the well-stocked breakfast area, we're betting that you'll be back again. Here are a few of our hotel amenities that guests tell us they love:
Easy access to PA Turnpike at exit 110
Seasonal outdoor pool
Safe and secure interior corridors
Delicious complimentary hot breakfast
Updated furnishings and carpet
On-site fitness facility
High-speed Internet access
Meeting and event space
Cruizers Lounge
Free Truck & RV Parking
100% Smoke Free
Contact us to learn more about our Somerset, PA accommodations.
Cruizers Lounge - Dining at Comfort Inn Somerset
Satisfy all of your cravings at Cruizers Lounge. You may not expect to find delicious hot food and a full bar inside of a Comfort Inn, but we aren't just another Comfort Inn. We strive to be the best hotel in Somerset, PA. Our first priority is making you comfortable and happy, so in addition to clean, sharp rooms with terrific in-room amenities, we also make sure you have the best amenities outside of your room. Cruizers Lounge serves hot food and cold drinks.
Cruizers Lounge Menu:
Hot Dogs
Hamburgers
Grilled Chicken Sandwiches
Burritos
Pizza Rolls
Soft Pretzels
Cocktails, Beer & Wine
Read Some of Our Rave Reviews
There's a lot more to Comfort Inn Somerset than just the fun times at our Cruizers Lounge. But don't take our word for it, here are some recent reviews, taken from TripAdvisor:
"Stephanie, the manager, was very welcoming and helpful. (I'm handicapped, and have difficulty walking). She and her staff couldn't do enough to help."
"I took the advice of the reviewers to choose a place for an overnight stay in Somerset. The reviewers were right again... this Comfort Inn is impeccably clean and near many eateries/businesses."
"I can see why this hotel is #1 in Somerset. ..we stopped for the night while traveling and it was a very comfortable stop."
"The rooms were nicely appointed. It was very clean."