Visiting the Flight 93 Memorial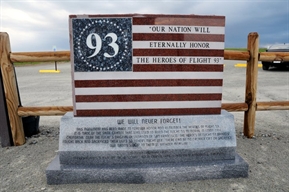 All kinds of reasons bring people to Somerset County, one of our proudest attractions is the Flight 93 Memorial honoring the men and women who perished on United Airlines Flight 93. Our hotel is just 13 miles away from the Flight 93 Memorial, so you can easily incorporate this moving memorial into your itinerary.
Never Forget
On Tuesday morning, September 11, 2001, the U.S. came under attack when four commercial airliners were hijacked and used to strike targets on the ground. Nearly 3,000 people tragically lost their lives. Because of the actions of the 40 passengers and crew aboard one of the planes, Flight 93, the attack on the U.S. Capitol was thwarted. This memorial tells that story in great detail, celebrates the heroes and remembers the innocent lives lost that tragic day.
Getting to the Flight 93 Memorial from Somerset
From Exit #110 of the PA Turnpike (Interstate 70/76), follow signs for Rte. 281 north. Take Rte 281 north 1.7 miles to US 219 north. Travel 8.7 miles north on US 219 to the Stoystown/Jennerstown/US 30 exit; turn right on US 30 east. Travel 8.5 miles on US 30 east. Turn right into the park entrance. The entrance will be prominently marked with official National Park Service signs.