The Jennerstown Speedway Complex LLC is excited for 2020!
Jennerstown Speedway Complex offers affordable family entertainment every Saturday night, from May through mid-September. Stock car racing at its' best! Thousands of sports fans from four states gather to enjoy the sight, sound, and FEEL of thunderous horsepower at 6:00pm each Saturday! The roaring engines, against the backdrop of the Laurel Highlands' great outdoors, thrills the young and the old with an environment that is as kid-friendly, as it is comfortable for the adults. With free parking, and all of your favorite festival-style "summer fun foods" at LOW prices, the whole family can get up close to America's Most Popular Sport – auto racing – without breaking the bank. For most events, adult tickets are just $10, and children ages 12 and under are admitted FREE (Special Event prices vary). Each week, five different "divisions" of race cars will each participate in preliminary Heat Races; then compete for all the prize money in five separate Feature Races. The fender-rubbing thrills of skilled drivers, turning breath-taking laps of the half-mile, paved, oval track create a sports experience unlike any other. Come early to grab an ice cream treat or soft pretzel, and watch race practice while enjoying all the activities on The Midway before the words "Drivers, Start Your Engines!" Gates open at 4:00pm each Saturday. www.Jennerstown.org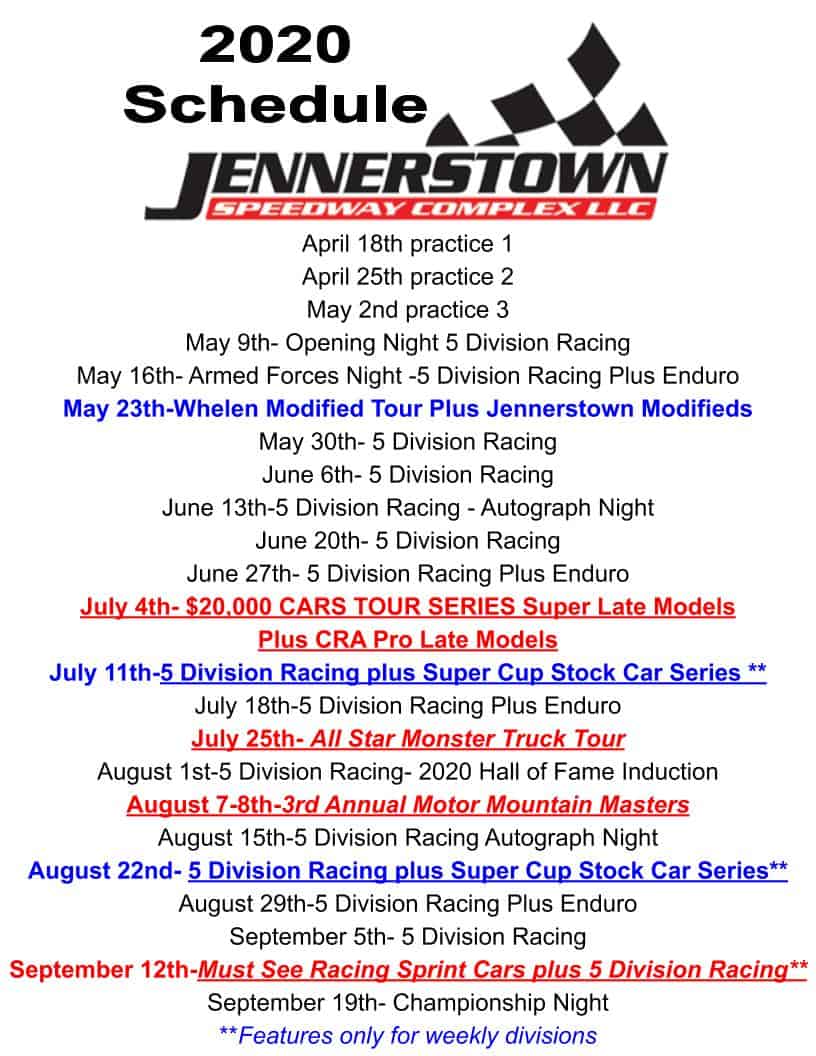 To stay up to date of all the Jennerstown action and for a full 2020 schedule of events and ticket sales please visit them at www.jennerstown.org along or follow us on Facebook @ Jennerstown Speedway Complex LLC. Dont forget they are now on twitter @Jtownspeedway!